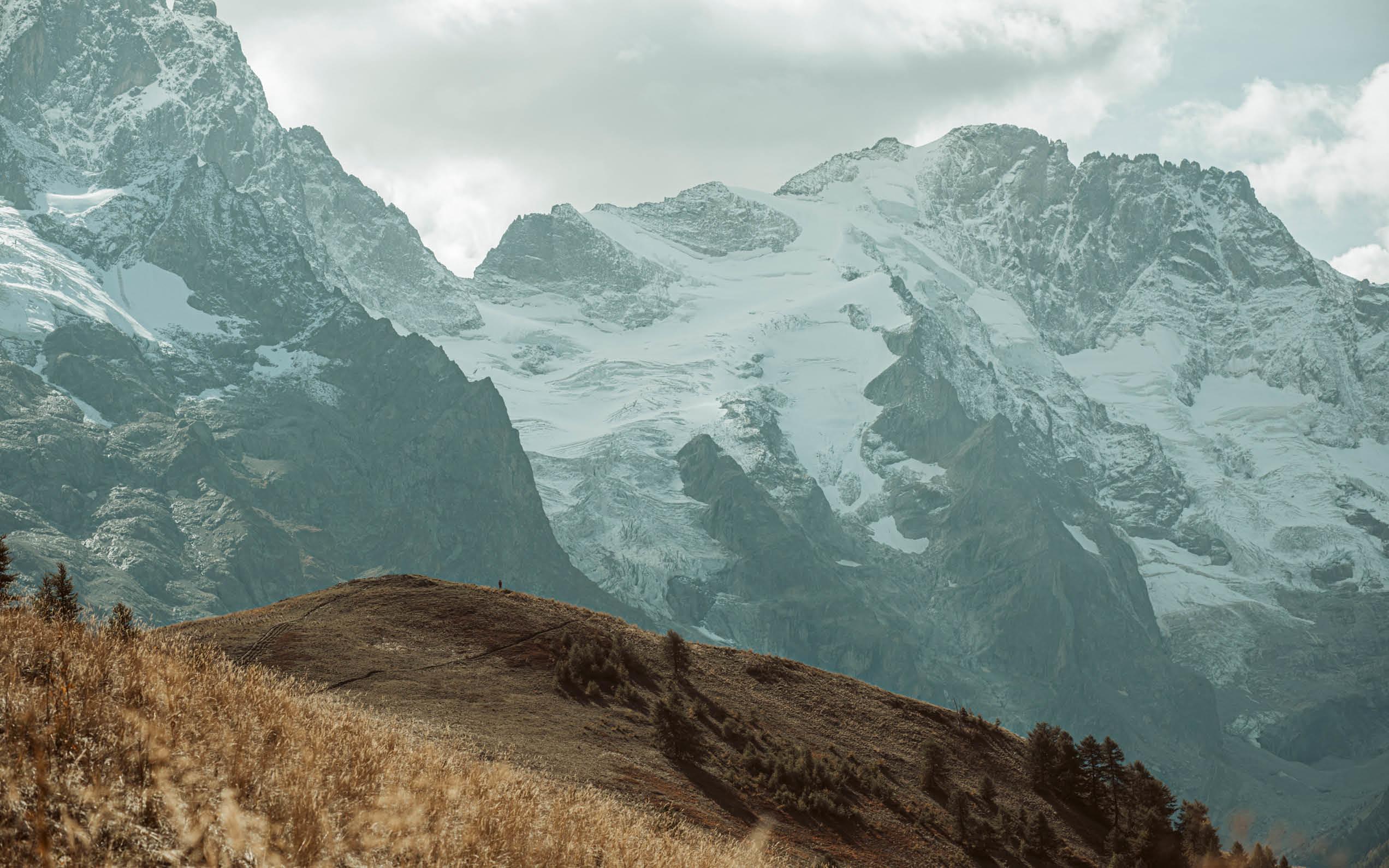 Bruuur
Antony Gormley, SITE Bruuur (2021) October 2021
Our office took care of the preparatory work, the placement and the overall organisation.
In October 2021, a public artwork by British sculptor Antony Gormley entitled SITE (2021) will be installed in the valley of La Grave, La Meije in France. The sculpture will be sited permanently in the landscape on the mountain known as "L'Aiguillon", a well-known local landmark and along a popular walking route. Commissioned by BRUUUR, a non-profit organisation, the intention of the work is to celebrate life, love and friendship and give something meaningful and inspiring to the place and community. In speaking of the work, Antony Gormley has said: "This is no ordinary commission. It is an attempt to materialize in an object the love for the mountains – the snow, the winter – everything they offer. The work is a celebration of two lives in a place where those lives were most lively, and also, were lost. Facing the mountains across the valley, it will be seen from nearby hamlets. My hope is that the work will become a sort of centre of gravity for the local communities. When I first heard the terrible news of the men's death, I was immediately touched by the story of these two brothers, who felt that the mountains were their home and that they were invincible, but that the mountains had taken them. SITE is a singular object evoking two bodies in a single moment. It is a mark of the human spirit's need to identify with a time beyond human time and an attempt to objectify the connection between human consciousness and geological time. It embodies an acceptance of our own impermanence in relation to planetary time. SITE is made of cast iron and weighs 915 kg. Anatomy is replaced with architectonic volumes using stacking, cantilever and balance to achieve a stable but dynamic structure. The work depends on there being an absolute tension between the sharp material clarity of the blocks, and a sense of exposure in the gestalt. The two bodies are made from many blocks cast together as one body and joined together by a single block that they share. The sculpture stands directly on the earth, without a plinth. SITE is not about heroism but about being open and connected. It is a solid, grounded thing made from an everyday material that nevertheless attempts to evoke our potential for extension in time and space. Some may know the history of the artwork, others will not. The sculpture simply identifies a human space in space at large in this open landscape.
My ambition in making works in the landscape is not to occupy it but simply to catalyze what is already there." Artist Biography Antony Gormley (b. 1950, United Kingdom) is widely acclaimed for his sculptures, installations and public artworks that investigate the relationship of the human body to space. His work has developed the potential opened up by sculpture since the 1960s through a critical engagement with both his own body and those of others in a way that confronts fundamental questions of where human beings stand in relation to nature and the cosmos. Gormley continually tries to identify the space of art as a place of becoming in which new behaviours, thoughts and feelings can arise. Gormley's work has been widely exhibited throughout the UK and internationally with exhibitions at National Gallery Singapore, Singapore (2021); Schauwerk Sindelfingen, Sindelfingen (2021); the Royal Academy of Arts, London (2019); Delos, Greece (2019); Uffizi Gallery, Florence (2019); Philadelphia Museum of Art, Philadelphia (2019); Long Museum, Shanghai (2017); National Portrait Gallery, London (2016); Forte di Belvedere, Florence (2015); Zentrum Paul Klee, Bern (2014); Centro Cultural Banco do Brasil, São Paulo, Rio de Janeiro and Brasilia (2012); Deichtorhallen, Hamburg (2012); The State Hermitage Museum, St Petersburg (2011); Kunsthaus Bregenz, Austria (2010); Hayward Gallery, London (2007); Malmö Konsthall, Sweden (1993) and Louisiana Museum of Modern Art, Humlebæk, Denmark (1989). Permanent public works include the 'Angel of the North' (Gateshead, England), 'Another Place' (Crosby Beach, England), 'Inside Australia' (Lake Ballard, Western Australia), 'Exposure' (Lelystad, The Netherlands) and 'Chord' (MIT - Massachusetts Institute of Technology, Cambridge, MA, USA). Gormley was awarded the Turner Prize in 1994, the South Bank Prize for Visual Art in 1999, the Bernhard Heiliger Award for Sculpture in 2007, the Obayashi Prize in 2012 and the Praemium Imperiale in 2013. In 1997 he was made an Officer of the British Empire (OBE) and was made a knight in the New Year's Honours list in 2014. He is an Honorary Fellow of the Royal Institute of British Architects, an Honorary Doctor of the University of Cambridge and a Fellow of Trinity and Jesus Colleges, Cambridge. Gormley has been a Royal Academician since 2003.
publiek
Locatie: Frankrijk
Jaar: 2021
Fotografie: Katleen Claes