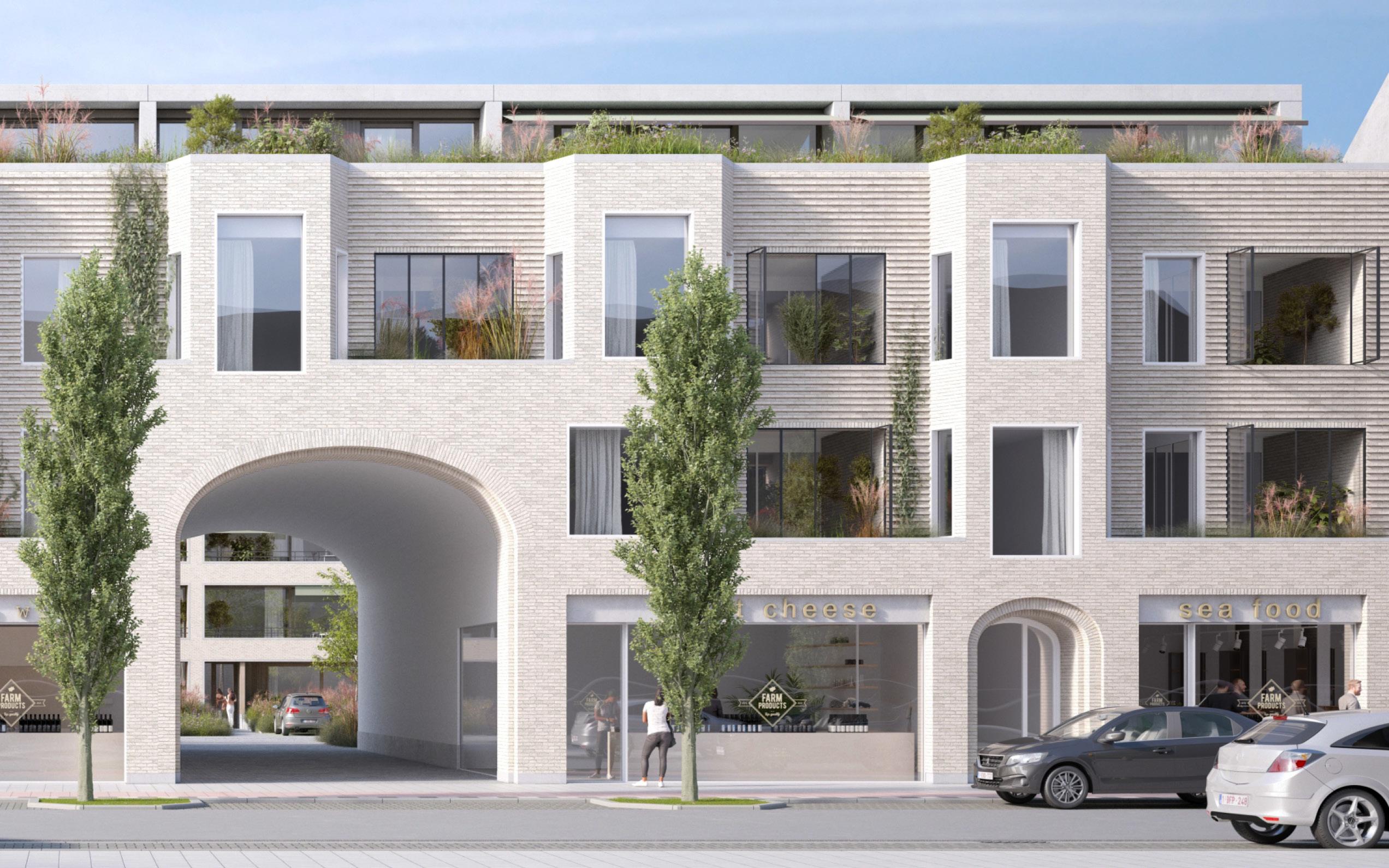 Den Bonten Os
The inward developing project "Den Bonten Os" is situated in the commercial heart within the village center of Westmalle. The name refers to the local bar that was situated here between 1935 and 1980. A masterplan was developed for the entire site connecting the structural plan of the municipality. In a first phase this plan provides a construction at the street side, a green buffering parking lot parallel to the street and a building in the wider inner area. In order to create a high density level with a limited footprint, we chose to work with several building layers in order preserve as much open green space as possible.
Considering the south-faced location of the front facade alongside a busy road, the apartments are supplied with an outer space in shape of a loggia, which is an indoor terrace that can be shuttered as you wish with a glass harmonica wall. These loggia's alternate with light splay bay windows, in order to create a game between withdrawn and protruding spaces. Besides, the protruding areas are supplied with flower boxes which green the facades.
The inner area between both buildings will serve as a square surrounded by green areas in order to create a so called green chamber. The square entails the possibility to park cars although for visitors, either of the commercial spaces, either visitors of the residents. It is important that the future residents can enjoy their new home and surrounding optimally. Levelling up the 'amusement factor' in such new projects is from high importance. Especially the wide passage, the big open space between the buildings, a combination of parking and green space. But mostly, the communal garden situated behind the buildings with a henhouse, a workshop and a washing area for bicycles and cars, sitting benches and sharing communal electrical bike sharing will undoubtedly bring added value to this project and the solidarity between the residents.
collectief / Commercial
Location: Westmalle
Year: 2018 - 2019
Visualisations: Infunctievan