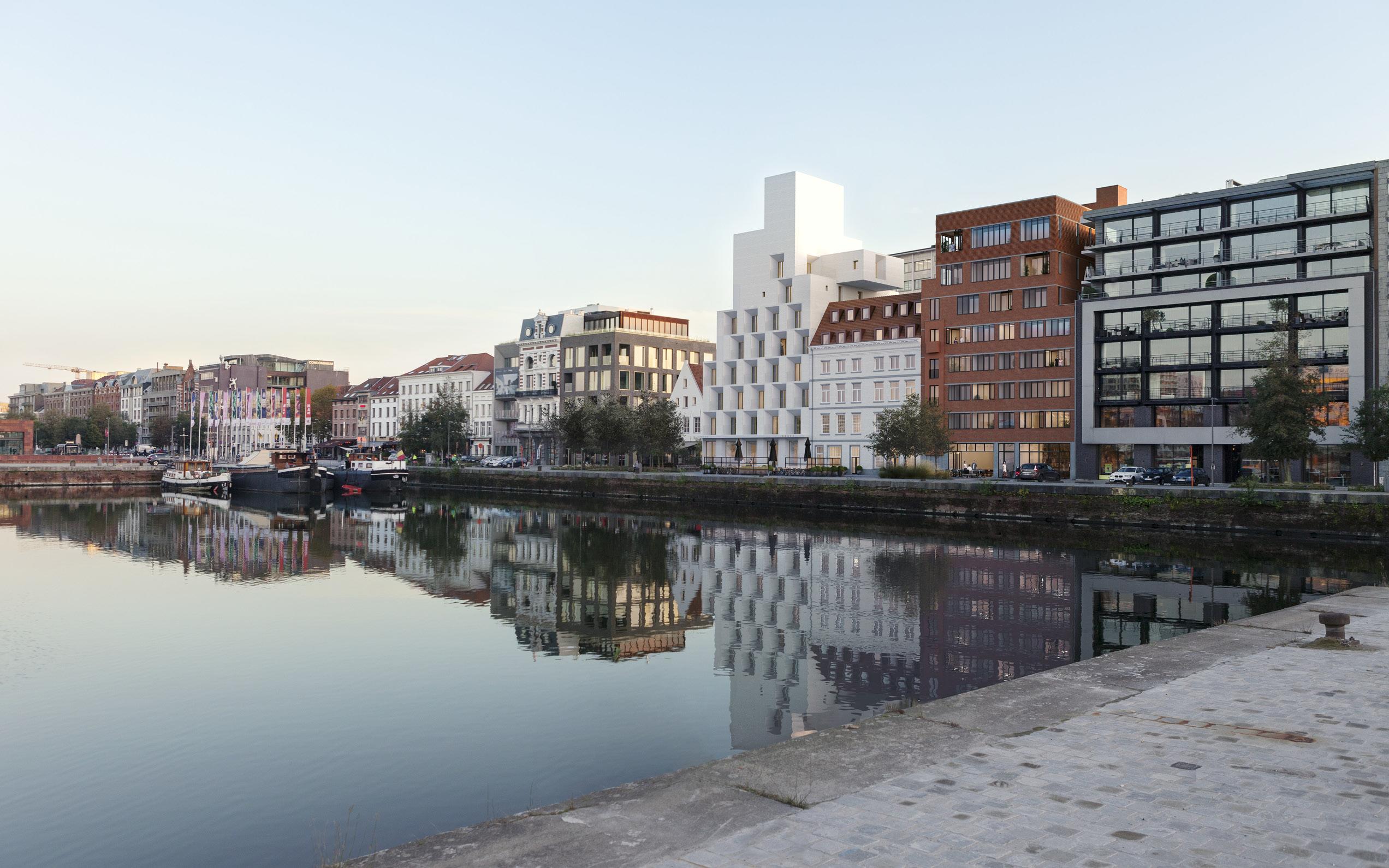 Hads
HADS is located at the Ariaan Brouwersstraat and Korte Zeevaartstraat, central in het Eilandje neighbourhood. The surrounding buildings are very diverse in architecture, volume, expression and function. The hotel is situated right next to the Bonapartedok that was integrated by Napoplean as docking for war ships and later used for trade. A new era dawns for this heritage area with repurposed activity. The war ships parted for leisure industry and it can be easily noted that there is anew many consumption in these Antwerp docks.
The giant MAS Museum with its red facades, claims a dominant presence between the docks. However, remainders of the former harbor activities remain visible. Among which the Felixpakhuis is the most significant. Further east, the carefully detailed facades make way for buildings that reflect the current economic tendency. Between the buildings that remember of long past days, we now find flats with ground floor horeca service in another kind of architecture.
On the Sint-Algedoniskaai, the plastered facade has been restored and the small building stands proudly in contrast to the surrounding towering blocks. The new hotel forms the connecting link between the existing building and is constructed out of a accumulation of views. Materialized by prefab elements in white polished concrete and stacked as large building blocks. The frames form intimate terraces. The space in between is filled with traditional brick masonry that braids future to past. The crown of the structure is designed massively and accommodates the technical installations invisibly. The exterior woodwork and railings are in metal and bronze shades. By using traditional techniques in combination with the bright white color, a unity Is formed in diversity, embedded in the historical context.
The soul and history of the location is translated into a contemporary design. By nodding to the local constructing tradition, the matching materialization grounds the HADS in the environment. The ground floor is purposed lively with lobby and hospitality, hence connecting the street again.
Commercial
Location: Antwerpen
Year: 2015
Visualisations: Infunctievan