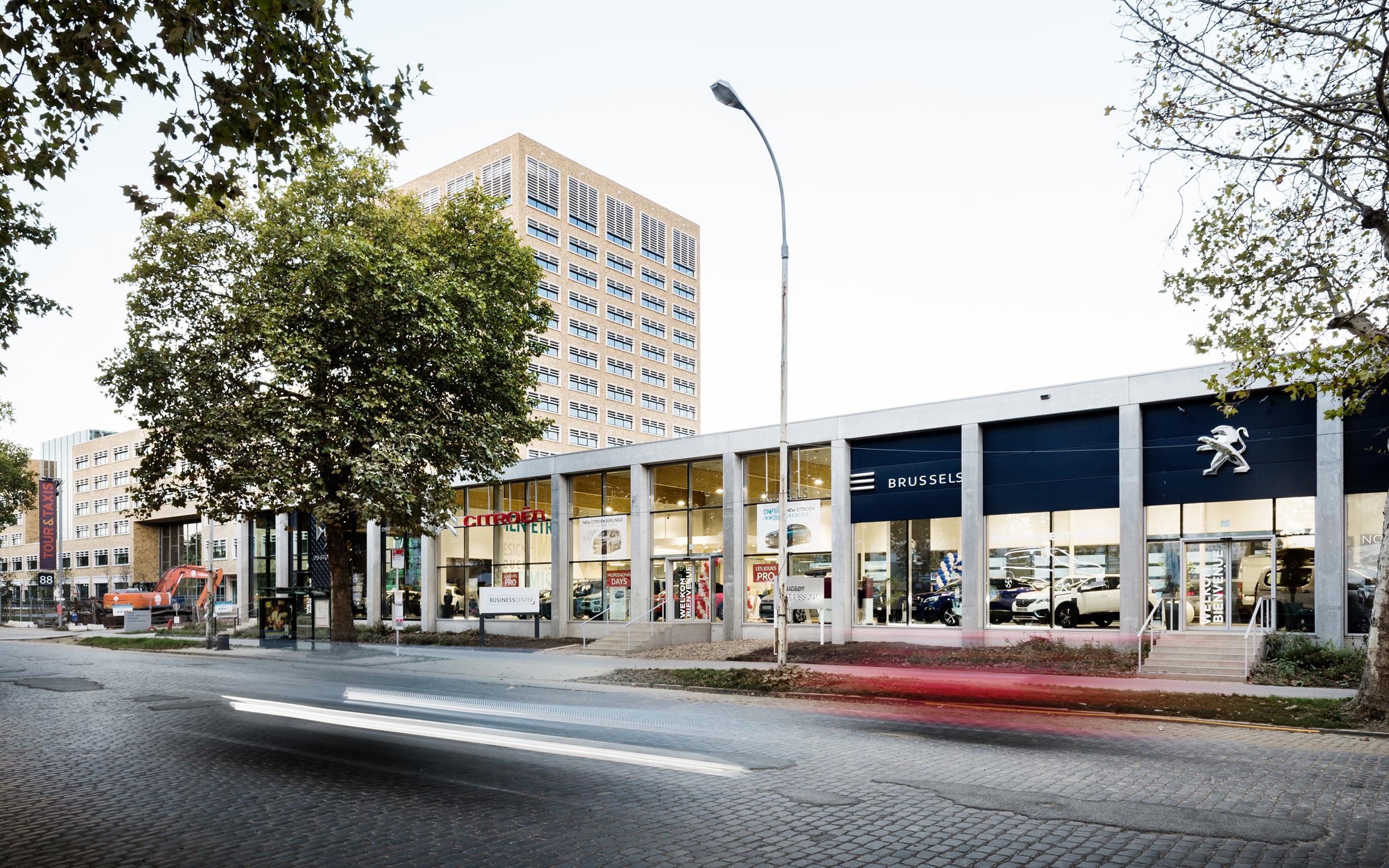 PSA Brussels
In 2015, following the purchase of the historic Citroën garage located on Place de l'Yser by the Urban Development Corporation of the Brussels-Capital Region, the activities of Citroën have been moved to the new developing site of Tour & Taxis in a new integration project of Groupe PSA together with the Peugeot and DS brands.
The new building site is located along Avenue du Port, beyond the site of Tour & Taxis. The project is the first in the context of the new development of the Tact site, between the Tour & Taxi buildings and the Tir site, which will be set up by bureau Bas Smet commissioned by the Port of Brussels.
The project has a pronounced urban design and high architectural quality. The facades are aligned with the neighboring buildings and form 'street facades' by moving the facades close to the road front. A variation to the structure of columns marks the customer's entrance with an open passage which leads to an internal courtyard, ensuring that the cars can be parked out of sight from the street level. The
guiding concept for the building is 'an enclosed outdoor showroom'. The entire project is surrounded by walls that delimit the perimeter and confine all traffic and parked cars to the courtyards. The building has a massive tectonic expression which is materialized by a structure of concrete columns and beams on the public side, in which the single brand images are integrated, while as on the technical and logistical side the architecture presents itself as more closed. The complex was designed to ensure the maximum flexibility for the different brands it hosts. The attention to the architecture of the new building goes beyond Peugeot's standard requirements, as the proximity to the Tour&Taxis building required a different approach to the appearance.
Sustainability aspects were included in the design, such as rainwater recovery for the car-washing and toilets, green roofs, photovoltaic panels and a permeable car parking with green areas developed in collaboration with landscape bureau Plant en Houtgoed.
Commercial
Location: Brussel
Year: 2015
Photography: LucidLucid