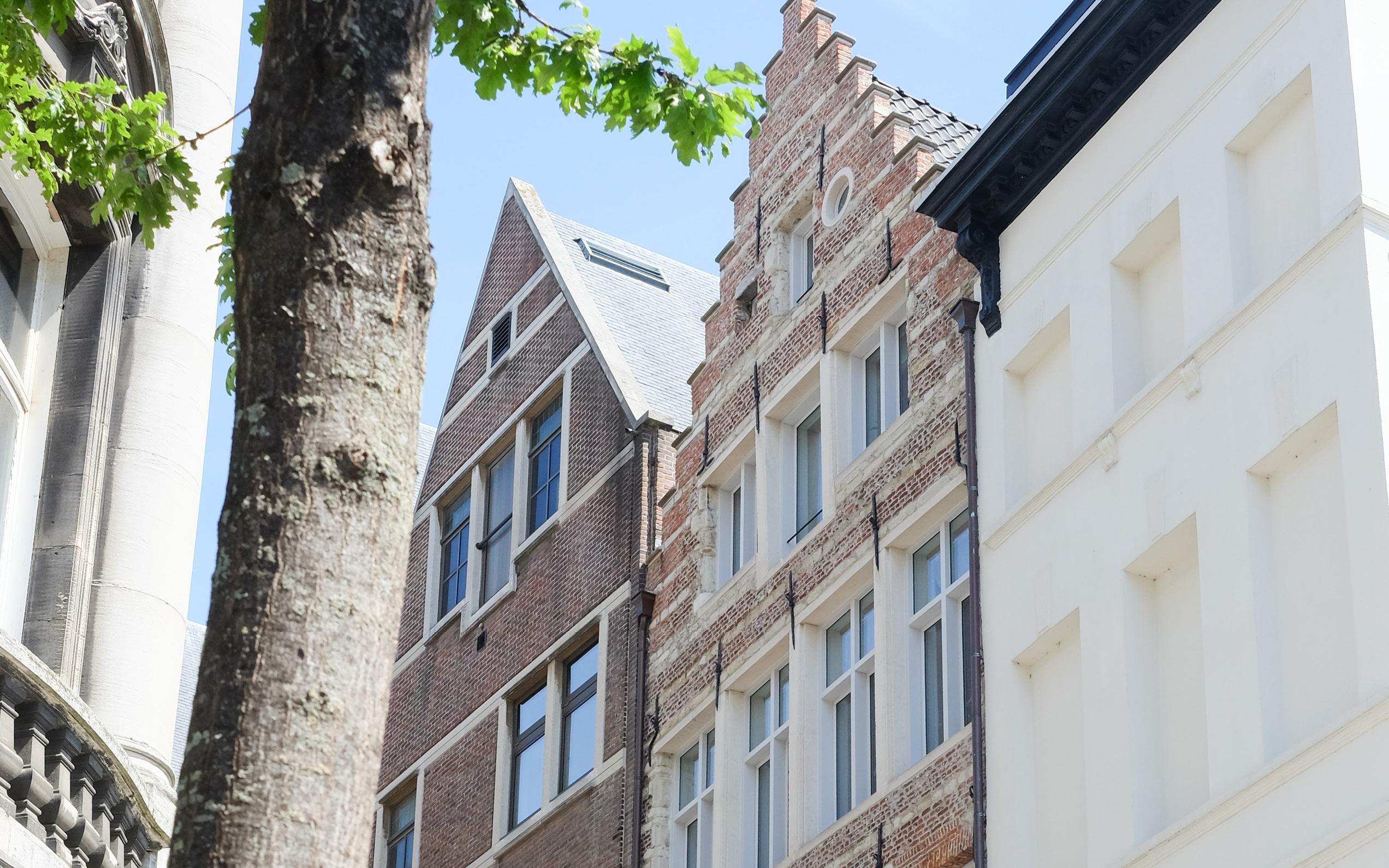 Restoration 'Radt Van Avonturen'
The building history of the 'Big Wheel of Adventure' in its current state goes back to the 16th century. Antwerp was bursting at its seams and became a flourishing world city. As a result of the Spanish Fury in 1576, together with the city hall, a big part of this area in the historical city center was burnt down. Hereby also the original medieval building. Immediately after the fire of 1579 the building with a shop was rebuilt, meaning that the present appearance of the building is nearly 450 years old.
After a meticulous restoration of two years the Big Wheel of Adventure has its original grandeur back. Facades and big structures were restored as well as the roof and windows. Only the classification was adapted to contemporary needs, meaning that every level was redesigned as an individual compact living space, including a kitchen and a bathroom with shower and washing space. The levels are connected through a concrete spiral staircase (with a wink to the original staircase in the house).
Particular care is given to sustainable restoration with fully renewed techniques. The house is isolated very well, with an high-efficiency condensation kettle from Weishaupt providing common heat through radiators (adjustable individually through thermostatic taps which are accountable individually). The hot water goes through an electric heater Stiebel Eltron (very economical consumption related to shower time), led lightening, a regeneration ventilation unit , … Overall, every provision is taken to ensure contemporary comfort in line with a modest sustainable consumption.
The finishing was done with natural and authentic materials interpreted in a present-day design. Such as Belgian blue stone, mineral cast floors, mineral painting, massive joinery and handmade ironwork.
Today this house is a polished pearl in Antwerp's historic city center.
collectief / Commercial
Location: Antwerpen
Year: 2019