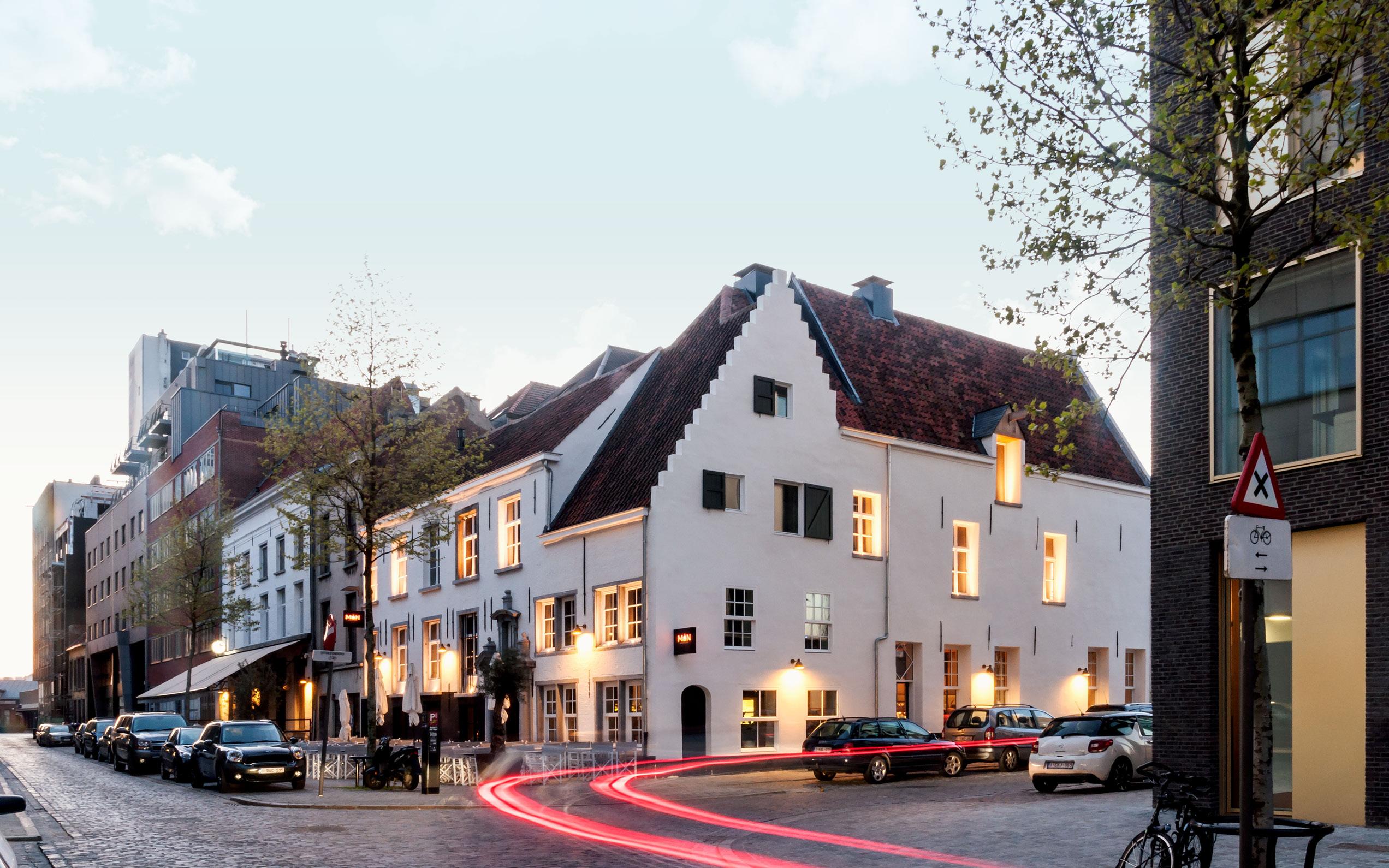 Restoration site M L
The history of the buildings within the block Adriaan Brouwerstraat-Korte Zeevaartstraat – Sint-Algedonkaai retraces back to the middle 16th century when Gilbert Van SChoonbeke developed the new city with the construction of three streams and sixteen breweries on the quays between the vestvliet and middenvliet. The brewery De Tempst is part of this construction campaign. In the 19th century, the buildings we split up and changes the function into housings as well as warehouses early in the following century.
Interior-wise, the building in the Korte Zeevaartstraat 2 is the most valuable, which is currently a restaurant. Several old interior elements were preserved: the wood board floor with stenciling on the first floor, the old numbered rafters, the recovered 18th century entrance door, structural beams and white natural stone corbelling.
In the beginning of construction works two years ago, the former bar at the Sint Aldegondiskaai was bleak and deserted. Since 1976, the building in MAS' shadow was uninhabited and falling apart. By a careful restoration plan and well considered interpretation of new purpose, we have succeeded in retaining much of the buildings character. Instead of restoring the buildings to its former glory, consequentially placing it in a chronological vacuum, we attempted to include a nudge to the past while focusing on repurposing the structure with modest contemporary additions.
Old materials and techniques have been interpreted from an updated perspective considering decoration and the facades (steel windows, mineral plastering, wooden floor elements, visible rostering, … ). The lighting is subtly placed in the daylight suide of the windows, which results in an remarkable play of light from the exterior.
The huge attraction the building radiates after the restoration, pleases movingly.
Mon restaurant has been selected for 'Most Beautiful Building of Antwerp'.
Commercial
Location: Antwerpen
Year: 2014
Photography: Katie Verkinderen